Food & Beverage
The Rusty Nail Saloon is open to the public and is accessible from the Hotel Lobby or the Waterpark.  Inside the Saloon you will find rustic furnishing, 2 flat screen TV's featuring ESPN, several rusty nails, and a family friendly environment.
Rusty Nail Hours
Fridays 5:00 pm – 9:00 pm
Saturdays Noon – 10:00 pm
Sundays 11 am – 3 pm
 *Hours may vary based on demand & staffing.
The Rusty Nail Saloon accepts Cash, Visa, MasterCard, American Express, & Discover.
2023 Rusty Nail Saloon Menu *Prices & menu subject to change without notice.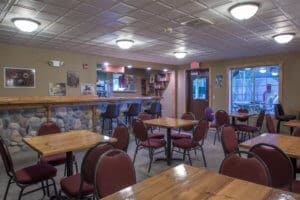 Food available at the Front Desk 24/7
Homemade 12" thick crust Pizza–Cheese, Sausage & Pepperoni
Candy
Chips
Ice Cream Treats
Beer (until midnight)
Bottled Soda
And more!