Rusty Nail Saloon
The Rusty Nail Saloon is open to the public and is accessible from the hotel lobby or the Waterpark. Inside the Saloon you will find rustic furnishing, two flat screen LCD TV's featuring ESPN, several rusty nails, and a family friendly environment.
Rusty Nail Hours
Fridays 5:00 pm – 9:00 pm
Saturdays Noon – 10:00 pm
Sundays 11:00 am – 3:00 pm
  *Hours may vary based on demand & staffing.
The Rusty Nail Saloon accepts Cash, Visa, MasterCard, & Discover.
Rusty Nail Saloon Menu 2019
   *Prices & menu subject to change without notice.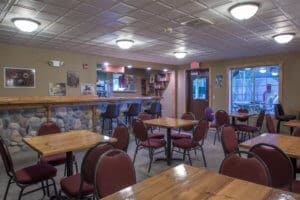 Food available at the Front Desk 24/7
Homemade 12" thick crust Pizza–Cheese, Sausage & Pepperoni
Candy
Chips
Ice cream treats
Beer (until midnight)
Soda
Juice
Milk
And more!